This is a 6-week group coaching experience that, by using the technique of EFT tapping, we address the trauma, hurt and pain you have experienced; helps you to identify and clear any remaining blocks you may have; and opens you up to new possibilities for your future success. This group EFT Tapping coaching package is a perfect companion for your Free From Trauma course if you want extra help and support on your trauma journey. However, the course is not necessary for you to be a part of this coaching. This will be a closed group to be offered on Wednesdays on a weekly basis beginning March 25th via Zoom. Please note, this is NOT a substitute for therapy, and if needed, I encourage you to seek out your own therapist. Rather, this is simply about creating community through pain and trauma as you achieve liberation from your past.
In this 6 week course, you will learn:
How to safely approach your trauma, hurt and pain on your own terms.
How to calm the fight, flight or freeze part of your brain in order to look at life from a different lens.
How to heal through, by and with others.
How to create more distance between you and your past.
How to step fully and powerfully into your present and attain your future goals with clarity.
What you will receive:
Six (6) 90-minute online group sessions walking you through the tapping process while working through your trauma.
Worksheets and guides to help you along the way.
Group support in a community of like-minded individuals who are ready to heal from their hurt and pain as you are.
***BONUS: You will receive a copy of Dr. Silas's two books - From Mourning to Knight: Overcoming Loss and What's Your ACTION Plan? 6 Powerful Ways to Get Unstuck in Your Life Now! upon signing up for the course!
*Please note, this is not a substitute for therapy. If individual work is needed, please be sure to seek out an individual practitioner for this work.

Who this is for:
Anyone who may have been looking for a way to work through their pain, hurt or trauma in a safe, effective and natural way.
Anyone who may work with people who have experienced trauma and want to learn a new way to approach their work.
Anyone who is tired of going to traditional talk therapy to tell their story constantly in order work through their pain and hurt.
Anyone who wants a deep and lasting level of healing.
Anyone who is ready for significant change in their life.
Anyone who wants a new and fresh experience with tapping work even if you've done it before; or who wants to deepen their knowledge and understanding of what tapping is if you've never done it before. *This course is for all levels of tapping experience, though it is preferred you know at least the basics of tapping, which can be found by going to this website here: https://www.thetappingsolution.com/tapping-101/
Week 1:
Tapping for emotional pain, hurt and trauma
This week we'll not only introduce ourselves, we will become acclimated to the tapping process, ensuring that you know the tapping points and procedures.
We will learn the differences between a small 't' and large 'T' when it comes to trauma, and how those may play a role in your daily life.
We will begin with general tapping, and begin to focus on various pain, hurt and trauma points of the participants.
Week 2:
Tapping for pain, hurt and trauma - Part 2

This week we will review what you noticed since the first session of tapping.
We will then continue to delve into past hurt, pain and trauma in your life, and how it may manifest now. Whether it's through anxiety, sadness and depression, or an overall feeling of stuckness, this will be a key area to explore where those feelings originate from.
Week 3:
Tapping for anger, rage, and all those other nasty feelings

This week we will review again what you noticed since the previous session.
We will then explore how those past traumas, pains, and hurts may show up as anger and rage - whether directed towards others, or yourself. Emotions have to go somewhere, and usually what we notice is that with trauma, hurt and pain, we tend to take it out on our loved ones; those at work; people we don't know (think: someone who cut you off in traffic); and even ourselves. We may beat ourselves up about how we have been feeling, and this is sure to keep us stuck. Learn how tapping through these feelings helps to release those feelings in a productive way.
Week 4:
Removing those pesky energy blocks

This week we will review again what you noticed since the previous session.
We will then begin to explore how your past has been holding you hostage, keeping you in that same pattern of repetition. Furthermore, it has kept you from achieving all you desire. It's like there's an invisible barrier there that you just can't get over. This session addresses those barriers and blocks head on, and allows you to start chipping away at those.
Week 5:
Tapping into forgiveness

This week, we will focus on any remaining traumas within the group.
We will also look at the power of forgiveness in your process. That's right. This can be tough for many. But that's what this session and community is all about - helping you work towards forgiveness. Whether it's someone you feel has done you wrong, treated you unfairly, or subjected you to the pain and hurt, it's time to let those feelings towards that person go. Holding on to that anger and rage towards them is like drinking poison and hoping they die. So how about just releasing that pain in a safe way? Also, you don't get off the hook for forgiving yourself either! Sometimes we blame ourselves for the predicament or position we found ourselves in. Therefore, it's time to let those old stories go and open up to ones of more empowerment.
Week 6:
What's next? Tapping to ACTION

During this session, we will do a recap of your progress thus far. That means acknowledging how far you've come and what is truly possible for you in the future now that you've let all of that emotional weight and baggage go.
By using Dr. Silas's ACTION Plan (from his book, What's Your ACTION Plan? 6 Powerful Ways to Get Unstuck in Your Life Now!), we will explore the ways you can express your unstuckness. These tools are sure to be helpful for you moving forward as you discover parts of yourself you never even knew existed before! What do you wish to achieve? What do you want to do with your life now that you can see a bit more clearly? The possibilities are truly endless!
Your Instructor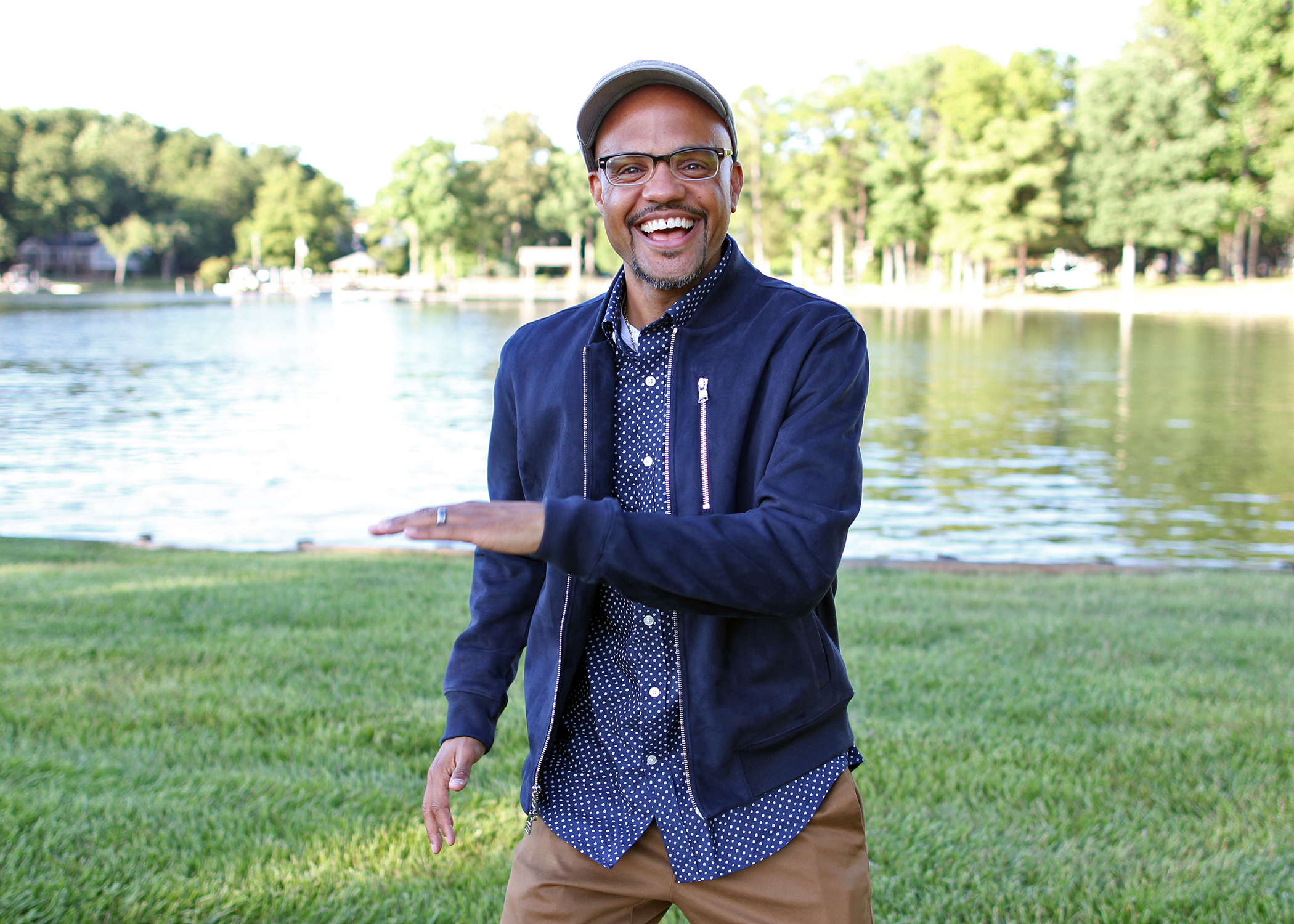 Dr. Damon Silas is a Clinical Psychologist, Collaborative Solutions Group Coach, Author and Speaker. Dr. Silas is the author of the book entitled From Mourning To Knight: Overcoming Loss, chronicling the losses he has experienced in his life, how he has worked through these losses, and how he has helped his patients through their own struggles and difficulties. He also has authored a follow-up book entitled What's Your ACTION Plan? 6 Powerful Ways To Get Unstuck In Your Life Now, which details ways to help those who feel stuck in their lives take their next steps forward. His podcast, entitled "From Mourning To Action: Powerfully Working Through Loss," is all about giving hope to people as they cope through their losses. His newest podcast and radio venture is entitled "A Mental Health Mixtape: Fresh Rhymes, Sound Bites and Movie Clips," and can be found on iHeart Radio through WDRB and Spreaker. He received his BS in psychology from Howard University, and his Doctoral degree from The George Washington University. He completed his internship at the Children's Psychiatric Center in Miami, FL. Dr. Silas is a board member of The Barbershop Group, specializing in mental health for men; and is also a board member for Queen City Unity, an organization dedicated to equity and equality for all in Charlotte. He also is a dance teacher, teaching both hip-hop dance and mindful movement classes.
Course Curriculum
Coaching Information
Available in days
days after you enroll
Week 1
Available in days
days after you enroll
Week 2
Available in days
days after you enroll
Frequently Asked Questions
When does the course start and finish?
The course starts on Wednesday, March 25, and ends on Wednesday, April 29. It is guided by Dr. Silas each week as you receive the tools and support you need for success. It will be recorded for easy access to view again as desired, or to watch for the first time if you can't catch it live.
How long do I have access to the course?
You will have access to this coaching experience for a limited time - 6 weeks to be exact. However, the tools that you will gain from this coaching experience are sure to last a lifetime!
What if I am unhappy with the course?
We would never want you to be unhappy! If you are unsatisfied with your purchase, let us know in the first 30 days and we will give you a full refund.