This is a 6-week group coaching experience that, by using the technique of EFT tapping, we address such things as pain, hurt, grief, loss and anxiety you have experienced; helps you to identify and clear any remaining blocks you may have; and opens you up to being more in touch with your innate resilience. From there, the possibilities for your future success are endless. This will be a closed group to be offered on Wednesdays beginning March 24 on a weekly basis via Zoom. Please note, this is NOT a substitute for therapy, and if needed, I encourage you to seek out your own therapist. Rather, this is simply about creating community through reflecting on what got you through the past year as you tap fully into your resilience and resourcefulness.
In this 6 week course, you will learn:
How to safely approach your anxiety, pain, hurt, trauma, or any other bothersome issues on your own terms.
How to calm the fight, flight or freeze part of your brain in order to look at life from a different perspective.
The power of healing through, by and with others.
How to tap into your resilience and strength to conquer what you desire.
How to step fully and powerfully into your present and attain your future goals with clarity.
What you will receive:
Six (6) 90-minute online group sessions walking you through the tapping process while working through your pain points and simultaneously calling on your strength and resilience throughout.
Worksheets and guides to help you along the way.
Group support in a community of like-minded individuals who are ready to heal and acknowledge their full selves as you are.
***BONUS: You will receive a copy of Dr. Silas's two books - From Mourning to Knight: Overcoming Loss and What's Your ACTION Plan? 6 Powerful Ways to Get Unstuck in Your Life Now! upon signing up for the course!
*Please note, this is not a substitute for therapy. If individual work is needed, please be sure to seek out an individual practitioner for this work.

Who this is for:
Anyone who may have been looking for a way to work through their pain points, especially since the dawn of COVID-19, in a safe, effective and natural way.
Anyone who is looking for a healing community where they can collectively heal and access inner-strength and resilience.
Anyone who wants a deep and lasting level of healing.
Anyone who is ready for significant change in their life.
Anyone who wants a new and fresh experience with tapping work even if you've done it before; or who wants to deepen their knowledge and understanding of what tapping is if you've never done it before. *This course is for all levels of tapping experience, though it is preferred you know at least the basics of tapping, which can be found by going to my YouTube page HERE
Week 1:
INTRO - YOU MADE IT THIS FAR: IDENTIFYING & FINDING YOUR STRENGTHS
This week we'll not only introduce ourselves, we will become acclimated to the tapping process, ensuring that you know the tapping points and procedures.
We will discuss the concept of resilience and how it has applied to your life thus far, and especially in the past year. Consequently, we will use these aspects to build upon throughout the duration of this course.
We will begin with general tapping, and begin to focus on various pain, hurt and trauma points of the participants in the past year and beyond.
Week 2:
WHAT LIES IN YOUR WAY? IDENTIFYING YOUR BOUNDARIES AND BLOCKS

This week we will look at what is standing in the way of your success and healing. What roadblocks and boundaries are there that just don't seem to go away no matter what you try, and how we can begin to decrease, diminish, if not have them totally disappear. We will review what you noticed since the first session of tapping.
The truth of the matter is that the defenses, barriers, and blocks that have been developed over time initially started out as positive and protective factors. They kept you safe, or at least safer, than you were before. So rather than shaming these parts, we must learn how to embrace and get along with them. Then and only then can we move forward. These reasons will be a key area to explore where those feelings and blocks originate from.
Week 3:
LEAPS AND BOUNDS: WHAT'S NEXT?

This week we will tap into what becomes possible as you look at your strengths and what you are truly capable of. We will also review what you noticed since the previous session.
We will then explore how your strengths have gotten you this far, and where they can bring you in the future. While we may still beat ourselves up about how we have been feeling, this way of being is sure to keep us stuck. Learn how tapping through these feelings helps to release those feelings in a productive way and make the future a bit more clear.
Week 4:
BUT WAIT, THERE'S MORE: TAPPING INTO WHAT REMAINS

This week we will tap into any remaining blocks or issues you may find creeping up and in to your daily experiences. We will also review what you noticed since the previous session.
We will then begin to explore how your past has been holding you hostage, keeping you in that same pattern of repetition. Furthermore, it has kept you from achieving all you desire. It's like there's an invisible barrier there that you just can't get over. This session continues to address those barriers and blocks head on, and allows you to start chipping away at those.
Week 5:
SEEING THE LIGHT THROUGH THE DARKNESS

This week, we will focus on recognizing the positive through the negative.
We will also look at the power of forgiveness in your process. That's right. This can be tough for many. But that's what this session and community is all about - helping you work towards forgiveness. Whether it's someone you feel has done you wrong, treated you unfairly, or subjected you to the pain and hurt, it's time to let those feelings towards that person go. Holding on to that anger and rage towards them is like drinking poison and hoping they die. So how about just releasing that pain in a safe way? Also, you don't get off the hook for forgiving yourself either! Sometimes we blame ourselves for the predicament or position we found ourselves in. Therefore, it's time to let those old stories go and open up to ones of more empowerment.
Week 6:
RESILIENCE, RESOURCEFULNESS AND RECAP

During this session, we will do a recap of your progress thus far. That means acknowledging how far you've come and what is truly possible for you in the future now that you've let all of those old habits and patterns go. You have added some powerful tools to your mental and emotional toolbox, so it's time to take inventory for when they will be needed in the future...and trust me, they will!
What do you wish to achieve? What do you want to do with your life now that you can see a bit more clearly? The possibilities are truly endless! So let's tap into our resilience and recognize that we've made it through some tough shit...and we will make it again. We have been primed and prepped for these moments. So get out there and shine. You've got this!
Your Instructor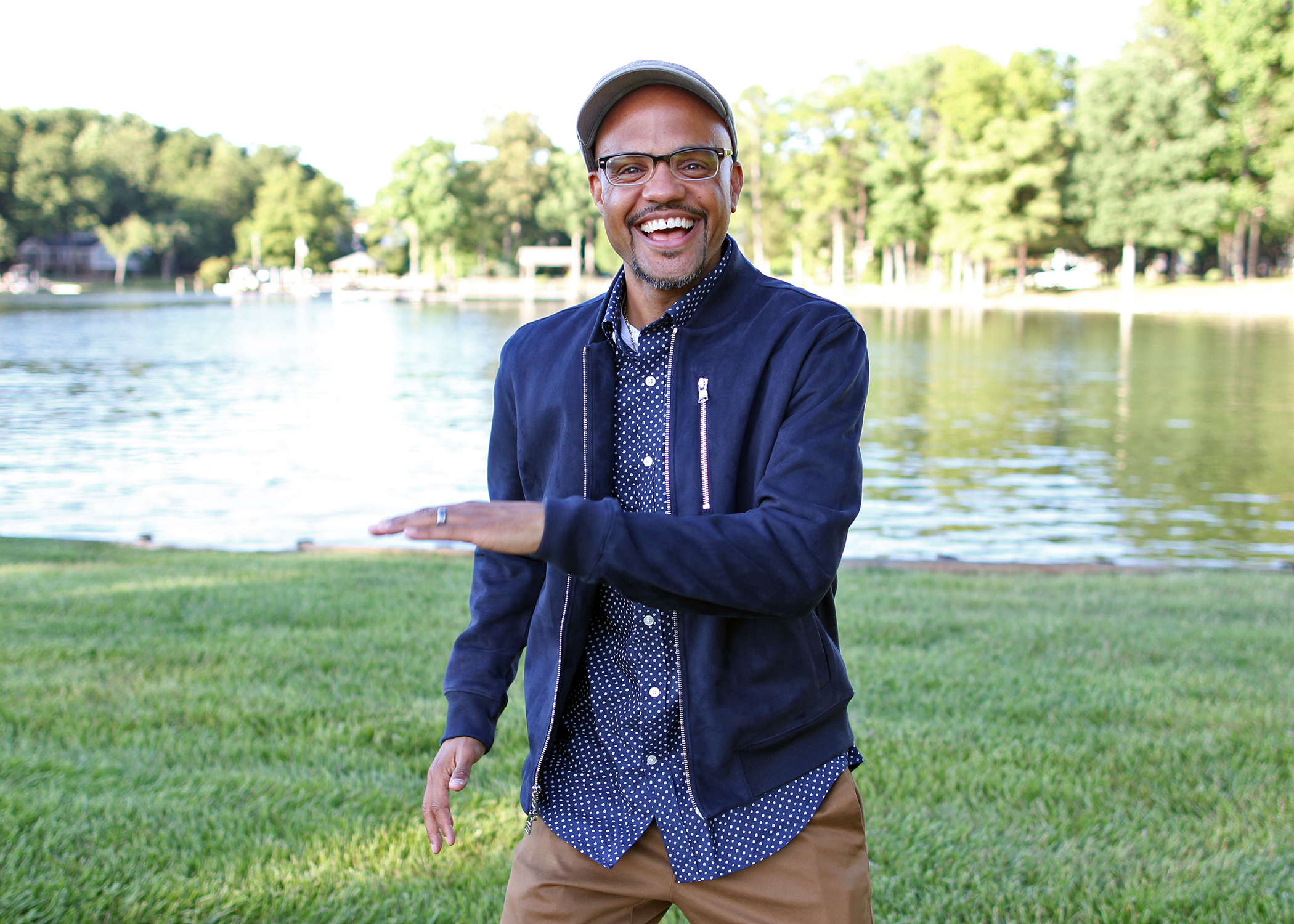 Dr. Damon Silas is a Clinical Psychologist, Mental Wellness Coach, Author and Speaker. Dr. Silas is the author of the book entitled From Mourning To Knight: Overcoming Loss, chronicling the losses he has experienced in his life, how he has worked through these losses, and how he has helped his patients through their own struggles and difficulties. He also has authored a follow-up book entitled What's Your ACTION Plan? 6 Powerful Ways To Get Unstuck In Your Life Now, which details ways to help those who feel stuck in their lives take their next steps forward. His first podcast, entitled "From Mourning To Action: Powerfully Working Through Loss," is all about giving hope to people as they cope through their losses. His most recent podcast is entitled "A Mental Health Mixtape: Fresh Rhymes, Sound Bites and Movie Clips," and can be found on iTunes and Spreaker platforms. He received his BS in psychology from Howard University, and his Doctoral degree from The George Washington University. He completed his internship at the Children's Psychiatric Center in Miami, FL. Dr. Silas is a contributing member to the Movement Genius platform, highlighting the importance of mindful movement through our emotions. He is also a dance teacher and has been teaching Hip-Hop dance for over 20 years.
Course Curriculum
Coaching Information
Available in days
days after you enroll
Week 1
Available in days
days after you enroll
Week 2
Available in days
days after you enroll
Frequently Asked Questions
When does the course start and finish?
The course starts on Wednesday, March 24, and ends on Wednesday, April 28. It is guided by Dr. Silas each week as you receive the tools and support you need for success. It will be recorded for easy access to view again as desired, or to watch for the first time if you can't catch it live.
How long do I have access to the course?
You will have access to this coaching experience for a limited time - 6 weeks to be exact. However, the tools that you will gain from this coaching experience are sure to last a lifetime! Furthermore, if you are in the course, you will receive access to the recordings for a lifetime.
What if I am unhappy with the course?
We would never want you to be unhappy! If you are unsatisfied with your purchase, let us know in the first 30 days and we will give you a full refund.